About this Property:
Seafront house with boat mooring for sale Korcula island
Seafront house with boat mooring for sale Korcula island is a semi-detached house located directly on the waterfront, in a small fishing cove on the south side of the island of Korčula. The house consists of two separate apartments.
On the ground floor of the house there is a studio apartment of 25 sq.m. with spacious covered terrace, right in front of the sea, which is 4 meters from the terrace.
On the first floor there is another apartment, a larger one-room apartment of 60 sq.m. with a terrace and an amazing sea view of the bay. This apartment also has an exit to the terrace behind the house. That terrace is hidden from view, spacious enough for dining. It also has an outdoor fireplace. Due to its unique location, just a few meters from the sea, the property is an excellent rental business investment. There is no traffic in front of the house so you can enjoy peace and tranquillity in this beautiful hidden cove. The house enjoys the sun all day, and is sheltered from any wind. The area is quiet and secluded, with plenty of space for relaxing, unwinding, and enjoying life.
In front of Seafront house with boat mooring for sale Korcula island there are moorings for boats, so if you have a boat, this house is the ideal choice for you.The house is connected to electricity and water supply, and the road leads to the house. This house, located on Korcula island, Croatia, has everything you could dream of in a home: water frontage, tranquillity and sun all day long. And did we mention that Seafront house with boat mooring for sale Korcula island is only 300 000 EUR? That's less than 400,000 USD!
Not only will this property give you peace of mind through its location and views, but it will also allow you to start a rental business. It already comes with an unfinished building that can be used as an extra apartment or guest house. Above the house is this unfinished building that you can also buy with the house. The price of this unfinished building with great potential is 80 000 EUR. Another floor can be added to this building, so you could get 2 apartments in this building. This building has car access from the upper street. This building can be a great rental business, separated from the main house. Renting apartments brings good income, so it could be a nice return on investment. The floor plan area of this building is about 40 sq.m.
The main house has 2 water tanks (12 m3 and 6 m3). The mooring for a boat is in front of the house. The bay is protected from the wind, so the boat can be docked all year round. This beautiful house has great potential to become a wonderful haven for lovers of the sea and marine activities.
The house is in a very small settlement, so for shopping you will have to drive to Blato or Vela Luka, which is less than 10 km away, which is about a 15-minute drive from this beautiful sunny bay. This is it. This is the place you've been waiting for.
You don't have to take our word for it—check out the photos we took last week!
Get ready to book your tickets to the island of Korcula! This is your chance to live the dream.
If you're interested in buying this property, get in touch with us today!
Korcula is an island belonging to the Dubrovnik-Neretva County in Croatia. It is located in the Adriatic Sea and has an area of 111 km2 (43 sq mi). The city of Korčula is located on the eastern side of the island, while Vela Luka is on its western end. The island's population was 7,829 in 2011, making it the second most populated Adriatic island after Krk.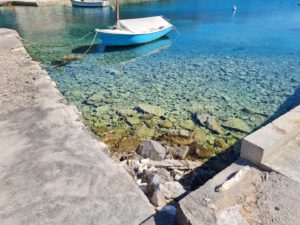 Read more about island Korcula here.
Read more about this property here Croatia Korcula island seafront house for sale with a boat mooring.