About this Property:
Seafront house for sale in Korcula Croatia
Get ready to experience the beauty and tranquility of life by the sea with this stunning seafront house for sale in Korcula Croatia! Boasting an unbeatable location next to the sea with incredible views of islands and an interior with two floors partly renovated, it's a perfect opportunity for anyone looking for a property that offers both comfort and relaxation. With a summer kitchen on the ground floor needing some renovation, don't wait any longer to make this magical place your home.
House is next to the sea and it has beautiful view of sea and islands. House consists of ground floor, first floor and second floor. In the ground floor there is a summer kitchen and bathroom. This floor needs complete renovation. On the first floor there are living room, bathroom, kitchen, two bedrooms and a terrace. This floor is partly renovated. On the second floor of the seaside house there is a living room, kitchen, bathroom with storage room, two bedrooms and balcony. This floor needs completion inside.
House is partly renovated from the outside. It is possible to use middle floor for living, as this floor is fully functional, though needs also renovation. House is used as summer residence. Total living space of this seaside house for sale Korcula Croatia is 188 m2. Location of this cozy house is just fantastic. Surrounded with lush greenery, this house enjoys total privacy and stunning sea views and only few steps from the crystal clean Adriatic Sea.
There is small pebble beach beneath this house. There is great potential in rental business, as there are 3 apartments in this house that could be rented to tourists after renovation. So this house pays itself and brings great rental income. We are travel agency as well, so we could calculate potential income of this house in rental business. Therefore, this house is great investment opportunity, with significant return on investment.
Enjoy breathtaking views of the sea and islands from the terrace, have your dinner on the terrace while enjoying calming sunset over the sea. With both floors partially renovated and a summer kitchen on the ground floor, this house is ready to become your perfect Croatian oasis. Don't wait, make an offer now and turn this amazing place into your very own slice of paradise.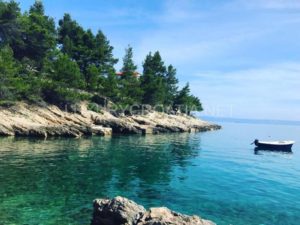 Read more about island Korcula here.
Read more abut this property here Croatia Korcula island seafront house for sale .