About this Property:
Sea view house for sale Zadar area Croatia
This sea view house for sale Zadar area Croatia is located in a small tourist village 15 km from Zadar.
The house consists of 2 apartments, each with 3 bedrooms. Total 287 sq.m. of living space. There is a big terrace with sea and mountain view, ideal for outdoor dining. House has air conditioning (cooling/heating) , 3 bathrooms and one toilet. Parking lot for 3 cars is available. There is also a possibility to build 3rd apartment, in the space under the terrace. House has garden with grown trees and land plot of 460 sq.m. Price for Sea view house for sale Zadar Croatia is 350 000 EUR.
All amenities are at walk distance, about 200 meters from the sea, restaurants and shops, doctor, post office, pharmacy. This is a small tourist village with beautiful beaches and clean seawater. Zadar international airport is 15 minutes drive, and highway entrance is less than 10 minutes drive.
Zadar is a beautiful, 3000 years old centre of North Dalmatia, resting on the coast of the Adriatic sea that will give you an opportunity to testify its vivid history and enjoy the contemporary aspects of its culture today. Zadar evolved a lot through the years, transforming itself from a prehistoric settlement to an Illyrian village to a Roman municipality and surviving other transformations until it was finally liberated and reunited with the rest of Croatia in 1993. As the Croatian National Tourist Board says, the region of Zadar tells the story of the sources of Croatian cultural heritage better than any book. In the world of natural beauties, Zadar will not dissapoint, offering amongst other things quite a few national parks for you to wonder around. Some of the national parks in the Zadar region are Kornati Islands, Paklenica canyons, Krka waterfalls, Plitvice lakes ( listed as a World Heritage site by UNESCO) and North Velebit. With a slice of Pag Cheese and a glass of the famous Maraschino, a local liqueur made from the native Maraska sour cherry, in your hand you can enjoy all the blessings of this area and the fruits of this land of divine inspiration.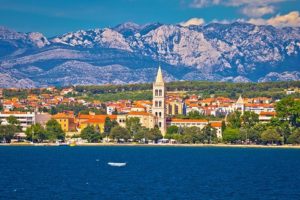 Find your route to Zadar area here.
Find out more about Zadar here.
Read more about this property here Croatia Zadar area house with sea view sale.