About this Property:
Sea view house for sale Posedarje area Zadar Croatia
This sea view house for sale Posedarje area Zadar Croatia is located in 3rd row from the sea, about 150 meters from the beach. House has beautiful panoramic sea view and surface of 350 square meters of brutto space. House sits on the 500 square meters of land which is lush garden with palms and pine trees, outdoor fireplace, garage and parking. Garden is well maintained and is beautifully organized for outdoor living in summer time.
House has 6 studio apartments and 2 attic apartments, cellar of 40 square meters in the basement area. Attic apartments have 50 square meters each, but have not been completed inside. House is situated in quiet area with all amenities at walk distance. Suitable for all year living and also for tourist rental business. How much this house can bring income from tourist rental, please contact us for precise calculation. We are also tourist agency and will be happy to help with advice related to rental potential of this home. Price for Sea view house for sale Posedarje area Zadar is 390 000 EUR.
Zadar is a beautiful, 3000 years old centre of North Dalmatia, resting on the coast of the Adriatic sea that will give you an opportunity to testify its vivid history and enjoy the contemporary aspects of its culture today. Zadar evolved a lot through the years, transforming itself from a prehistoric settlement to an Illyrian village to a Roman municipality and surviving other transformations until it was finally liberated and reunited with the rest of Croatia in 1993. As the Croatian National Tourist Board says, the region of Zadar tells the story of the sources of Croatian cultural heritage better than any book. In the world of natural beauties, Zadar will not dissapoint, offering amongst other things quite a few national parks for you to wonder around. Some of the national parks in the Zadar region are Kornati Islands, Paklenica canyons, Krka waterfalls, Plitvice lakes ( listed as a World Heritage site by UNESCO) and North Velebit.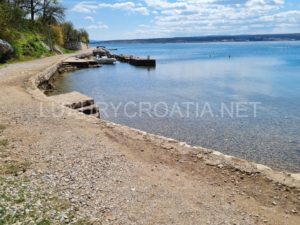 Find your route to Posedarje Zadar here.
Find out more about Zadar here.
Read more about this property here Croatia Zadar Posedarje area sea view house for sale.