About this Property:
SEA VIEW HOUSE FOR SALE MILNA, BRAC
(SW-SH-BM)
Sea view house for sale Milna, Brac is situated very close to the sea, has terraces suitable for dining, with outdoor stone fireplace. House is laid on 3 floors in cascading shape. This is a semi-detached house but it is walled so there is privacy on the terraces with a beautiful view of the Milna harbor.  The neighbor is a doctor, but he is not living in the house, comes rarely, in the summertime.
There is parking behind the house. There are 3 apartments in the house (one per each floor). Each apartment has a bathroom and toilet. Ground floor enjoys a large 40 m2 terrace, the first floor has two terraces, one is 8 m2 and another is 12 m2, the second floor has a small 3 m2 terrace. House has 4 bedrooms. House was constructed in 1998.
Size of the house is about 160 m2 and the land plot is 238 m2. House is fully furnished and furniture is in the price.
Distance to the sea is less than 200 meters, it is a few minutes walk. Supermarket and restaurants are also a few minutes walk. Catamaran (speed boat) liner that goes to Split every day in the summertime is a few minutes walk from this house. There is a beach of Bijaka with beach bars, also a few minutes walk from this house.
Center of Milna is 5 minutes walk. Milna is a beautiful old stone village, rich in history, a lot of restaurants and two large marinas for yachts and sailing boats.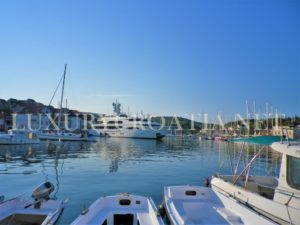 If you want to know more about Brac, click here: Brac.
Find out here information about buying property in Croatia – Buying procedure, Costs and Fees