About this Property:
Sea view house for sale in Rogoznica
SOLD!
Sea view house for sale in Rogoznica has 159 sq.m. Lot size is 296 sq.m. and sea view house consist of semi-basement, main floor and first floor. On the main floor of the sea view house is kitchen with living room, 2 bedrooms, bathroom and big deck. Outdoor stairs lead up to the first floor (house has a possibility to create 2 separate apartments) that consists of hallway, 3 bedrooms (one has all installation to become a kitchen), bathroom and big deck with astonishing view of the sea. House is second row to the sea. Each room in the sea view house is equipped with AC unit and sea view house has a thermal facade. Water heating is done by solar panels. House for sale has completely finished garden with four parking spaces, outdoor kitchen and beautiful fruit trees. Sea view house is situated near market, fish market, bank, restaurants and caffe shops. There is a new private boat pier, but for using it you need to get permission of harbour master office of Rogoznica. Sea view house for sale is completely furnished and ready to move in. The price for sea view house for sale in Rogoznica is 360 000 EUR.
Rogoznica is a quiet but popular tourist village on the coast of Croatia at the end of North Dalmatia, located around 30 km from Šibenik and 55 km from Split and hidden in a deep bay sheltered from the wind. Most of the island is covered with forests, while the centre shows old stone houses, witnessing the whiff of the Mediterranean. It was once a small island called Kopara where Rogoznica was rested, however the island was artificially connected to the mainland, creating a peninsula in the second half of the 19th century. The depth of the bay creates a shelter from the wind and makes it one of the safest harbour on the Croatian coast. It is therefore very convenient to berth small or large boats in Marina "Frapa", one of the prettiest marinas in the Adriatic with a total of 450 berths, but you can also arrive with the car while driving the local roads or highway. The marina is very well equipped, with cafes, restaurants, a sports centre, swimming pools and a nightclub so it is as well, central to the events occuring in this area.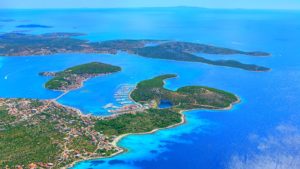 Find your route to Rogoznica here.
Read more about Rogoznica area on our blog.