About this Property:
SEA VIEW HOUSE WITH BIG GARDEN, SPLIT, MEJE
(ME-G-1)
Sea view house with big garden, Split, Meje is beautifully positioned house on a prestigious location in Split.
Footprint of the house 136 m2, total surface of the house with garages 230 m2, plot size 932 m2,
price: 1.800.000 €
House is spread over 4 levels, with 2 apartments on each level. It consists of 7 residential units total, one wing is connected in a two storey apartment with internal stairs. Every terrace has a beautiful fully open sea view.
There are two unfinished apartments on 3rd floor.
House is surrounded with big garden, location is peaceful and very close to the pebble beaches. There is a big barbecue behind the house.
The city of Split is the largest city in the Dalmatian region and the second largest city in whole Croatia. It's considered to be over 1700 years old, making it one of the oldest cities of this area as well. Split is a great connection to other cities and islands of Dalmatia all due to its great location, siting in front of the beautiful blue water of the Adriatic and backed up with impressive mountains.
The center of Split is marked with the Roman Palace of the Emperor Diocletian, listed as a UNESCO World Heritage site for being one of the most impressive Roman constructions that is extraordinary preserved. The entire historic city core is on the same UNESCO list from 1979. Diocletian wanted to spend the last years of his life in peace within the walls of his Palace, built near the great Roman city of Salona. The area shows a true coexistence of tradition and modernity, with the palace nesting around numerous cafes and restaurants on Split's waterfront decorated with beautiful palm trees just next to the sea. Just a few steps into the centre will have you wandering the narrow Mediterranean streets and old city walls through the vivid history of Split. You will see some great examples of the ancient architecture, such as the Peristyle(the main open space of the palace, surrounded with a colonnade of six columns and an arch in the centre), The Cathedral of St. Domnius ( that has a tower for you to climb and gaze at the wonderful sight of Split from the hights), great Romanesque Church and other heritage sites. Another popular sight is the statue of Gregory of Nin, whose big toe has a shiny gold colour, due to all the people rubbing it ( it is said that the wish that you make while doing this will come true).
If you want to know more about Split, click here: Split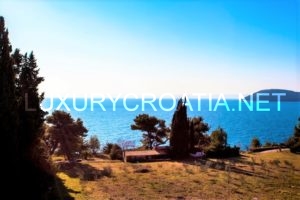 Find out here information about buying property in Croatia – Buying procedure, Costs and Fees