About this Property:
Party villa in Split area
This party villa in Split area accommodates up to 10 persons and it is perfect for all kinds of private events.
Party villa in Split area has 5 bedrooms and 3 bathrooms. Party villa has two levels. On the ground floor of the party villa are spacious kitchen with dining area, living room, 2 bathrooms and pantry. On the upper floor of the villa in Split area are five bedrooms, one bathroom and an additional toilet. If you arrive by car, there are 5 parking places available at the property. This party villa can be rented for at least 3 day stay and it is perfect for party events, like birthdays, hen or bachelorette party. Darts game is at your disposal in the party villa during the stay. This party villa is pet friendly. Party villa offers private pool of 32 sq.m. The closest beaches to party villa are about 32 km away and they are located in Split. Outdoor fireplace is at your disposal during the stay in the party villa.
Price list per day in 2020 in EUR:
Season A:
11.07. – 14.08. 291 EUR
Season B:
04.07. – 10.07. 262 EUR
15.08. – 21.08. 262 EUR
Season C:
06.06. – 03.07. 193 EUR
22.08. – 28.08. 193 EUR
Season D:
09.05. – 05.06. 151 EUR
29.08. – 11.09. 151 EUR
Season E:
11.01. – 08.05. 134 EUR
12.09. – 10.11. 134 EUR
*minimum stay is 3 days
Damage deposit is 300 EUR.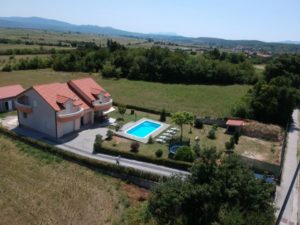 Read more about Split area here.
Find your route to Split here.