About this Property:
Luxury villa with tennis court Hvar
(VR-PH-DC1)
Luxury villa with tennis court, Hvar is villa with a classical mixture of modern, Mediterranean and international, presenting the inimitable external architectural solutions, combined with the local tradition and natural beauties. The spot it is situated in, has been selected precisely for its uniqueness, inviting for an unprecedented game of extraordinary colours and materials, combining the warmth of wood and hand carved stone, leaving no one indifferent.
The house is located in the central, rural part of the island, on a hill safeguarding Pokrivenik, one of the most beautiful bays on the island, distant only 30 minutes from Hvar, surrounded by autochthonous vegetation and centennial pine trees. The walk to the Villa seems to be the journey back to old, remote, forgotten times.
Isolation, peace and silence that surround it, vouch for a quality rest, both for body and soul, where as the evening starlit sky represents the view to be long remembered by every guest. This great luxury villa has a capacity of 12 people (10 + 2).
The property is equipped with the most modern video surveillance and alarm system, providing the additional safety to our guests, as well as with the system of electronic locks for an easier access.
Privacy and luxurious facilities are the main characteristics of this modern villa. Luxury villa with tennis court, Hvar is villa with 5 bedrooms and 5 bathrooms with parking place for 10 cars.
TENNIS COURT:
Stone plated walkways connect the residential part of the property with the full size tennis court, to enjoy either a tennis, or a bocce game in the warm summer evenings.
-Reflectors for night playing (Tennis court is fully lighted with reflectors, so you can enjoy a game of tennis whenever you like)
In front of the pergola is a spacious sun deck with a large swimming pool and the outdoor shower.
Besides modern kitchen, there is also a built-in barbecue, outdoor mini-bar and dining al fresco.
SAUNA:
– bubbling jacuzzi
– massage table
GYM:
fully equipped with the latest machines.
-Running machine, cross trainer, bicycle, free weights and other weight station machines.
BEDROOM:
On ground floor
en suite bathroom and two more double bedrooms sharing one bathroom.
In the basement there is also another large bedroom and bathroom.
-Separate studio apartment
Away from the main villa is a detached structure – separate studio apartment with a kitchen and toilet, which can be used as a subtle and out-of-the-way guest apartment for staff.
KITCHEN:
-microwave, coffee maker, high chair, refrigerator, freezer, stove, oven. It is possible to arrange private chef.
DINNING ROOM:
Main dining room is blended with the living room. It is modernly furnished and features a fireplace.
-Room for sotializing in the basement has separate dining room with a small wine cellar.
Living Room has direct access to the surrounding terraces, melting with the house, extending it, opening the living room to the sky.
Villa capacity: 10 + 2 guests
Price list per day in 2021 in EUR:
01.01. – 31.05. 700 EUR
01.06. – 30.06. 800 EUR
01.07. – 31.08. 950 EUR
01.09. – 30.09. 800 EUR
01.10. – 31.12. 700 EUR
*minimum stay is 5 nights in July and August, and 3 nights for the rest of the year.
*Security deposit  is 1000 EUR in cash, returning on guests account 5 days after check out.
*Check in: 5PM
*Check out: 10AM
*Extra bed 100 EUR per night.
*Pets are allowed upon request. Pet 35 EUR per night
Amenities:
Terrace/Fireplace/Swimming pool/CD/DVD player, SAT TV, phone/fax, Wifi/Jacuzzi/Baby cots/Washing machine & dryer/Sauna/Tennis court/Private parking/Gym/Built in BBQ/Outdoor dining area/Alarm and CCTV system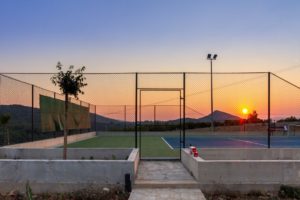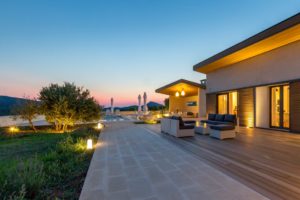 Additional services are available on request at extra cost.
Be sure to give as a call day earlier so we can arrange everything you need.
ADDITIONAL SERVICES:
Private chef, Tennis teacher, Babysitter, Daily maid, Luxury car and yacht rental, Custom made tours, International news papers, Transfers
Nearby places:
Restaurant and pizzeria 2.25 km
Caffe bar in Pokrivenik 2.33 km
ACI marina Vrboska 32.02
Shopping 28.31 km
All kinds of souvenir shops and others in Jelsa
Grocery shop 9.01 km
Pharmacy 28 km
Pharmacy and medical help in Jelsa
If you want to know something about Hvar island, click here: Hvar Island
You can check here some excursions and activities: Excursions, activities…