About this Property:
Large garden villa in Konavle Region for rent
Large garden villa in Konavle Region for rent is located in Gruda, 16 km from Cavtat. It can accommodate up to 11 people.
Villa features beautiful mountain views and large garden with swimming pool and lots of different amenities such as children's playground with trampoline, ping pong table, darts, mini football, hammock, outdoor dining area, fireplace and BBQ facilities. Villa consists of 5 bedrooms (4 with queen beds and one with twin beds) and 5 bathrooms. Living room has sofa bed, flat screen TV with DVD and cable channels. Kitchen is fully equipped and whole villa has free WiFi access, it is air conditioned and has secure parking. Pets are welcome, and free of charge!
The Konavle region is on the southern tip of Croatia.There are 20 villages in Konavle, the largest of which are Cilipi and Gruda which is the region's administrative capital. All except Cilipi and Gruda are on the slopes of hills or mountains. As an agriculturally productive region, it was a most important asset to the Republic of Dubrovnika. The villages still contain reminders of Konavle's fascinating history. In the village of Pridvorje is a Ducal palace that recalls the days when wealthy Dubrovnik residents built villas in the region. In the hamlet of Mocici is an ancient temple complex as well as traces of an even earlier Illyrian shrine.
Prices per day in 2021. in EUR:
01.04. – 31.05. 196 EUR
01.06. – 25.06. 249 EUR
26.06. – 09.07. 399 EUR
10.07. – 20.08. 473 EUR
21.08. – 27.08. 417 EUR
28.08. – 18.09. 338 EUR
19.09. – 31.10. 207 EUR
Check in: 16:00 h
Check out: 10:00 h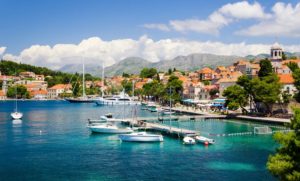 Find your route to Konavle Region here.
Find more about Konavle Region here.