About this Property:
Land for sale on island Dugi Otok
This land for sale on island Dugi otok has 2852 sq.m. and it is located by the sea. The price for the land on island Dugi Otok is 199 000 EUR. Island Dugi Otok is really well connected with city of Zadar. The island is known as an oasis of peace and it faces open sea. Dugi Otok is known for Nature park Telascica with beautiful cliffs and one of the most beautiful beaches in Croatia, beach Sakarun. Island is ideal place for swimming and enjoying purity of the sea. It has number of attractive tourist sites and natural beauties.
LuxuryCroatia.net team is real estate broker with more than 10 years of experience in real estate sales in Croatia. Our team will guide you through the buying procedure, give you all relevant advice and successfully complete your process of purchase. We provide you with complete information and instructions about way to buy property in Croatia. There are some small differences in purchase procedure in Croatia compared to other EU countries, and we are here to inform you and guide you through all the process. Testimonials of our happy clients speak about our work. Most of information in case you plan to buy property in Croatia, you will find on this website. If you need any additional information please contact us to provide more details, we'll be happy to reply within few hours (please make sure to check your spam folder as sometimes our reply end up in spam folder though we do not send any bulk emails and we use our authentic domain name LuxuryCroatia.net). We are specialised in coastal region and islands of Dalmatia where we have most of our properties for sale.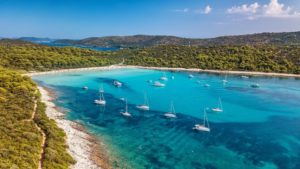 Find the ferry schedule to the Island Dugi otok here.
Read more about buying property in Croatia here.
Read more about this property Croatia Dugi Otok sea view land for sale.