About this Property:
Land for sale in Peljesac
This land for sale in Peljesac has 1050 sq.m. and it is close to the sea. Land for sale is located just 160 m from the Adriatic sea. The price for the land is 115 500 EUR.
Peljesac is the longest of all Dalmatian peninsulas, mostly covered with woods and coast full of beaches, reefs and bays. Peljesac has long maritme tradition and it is well known for vineyards, and the excellent sorts of wine, Dingac and Postup. Ston is one of the most important places of the Dubrovnik Republic. Ston area Peljesac is one of the hidden gems in Europe considering its historic legacy. Ston is most known village for 3 things – its very well preserved town walls, its salt works and its oysters. It is located a little isolated, on the Peljesac Peninsula which is situated 60 km away from the nearest large city, Dubrovnik. The walls of Ston are perhaps what this little town is best known for and for a good reason. The walls are much longer than those in Dubrovnik, at 5 km, making them the longest defensive structure in Europe, and sometimes referred to as the "European Walls of China". The walls of Stone were built in 1333. when Ston became a part of Republic of Dubrovnik.
Property market in Croatia became more open to EU citizens who are now able to buy on the same terms as local Croats (except agricultural land and land in national parks). This burning of red tape in the buying process is not only speeding up the property buying procedure. It also encourages more buyers to purchase in Croatia with confidence. Property buying in Croatia for non-EU citizens is governed by the principle of reciprocity. This means the right of an individual to buy property on the condition that Croatian nationals are permitted to buy property in the origin country of the purchaser. For EU citizens rule is that they buy in Croatia same way as Croatians, except agricultural land. If foreigner want to buy agricultural land, company has to be formed which will buy agricultural land.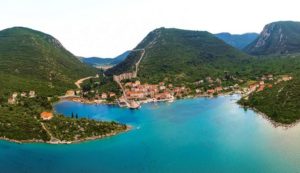 Read more about buying property in Croatia here.
Find your route to Peljesac here.
Read more about this property here Croatia Trpanj area sea view land for sale.