About this Property:
LAND BY THE SEA FOR SALE WITH HOUSE IN DEVELOPMENT, KORCULA ISLAND
LAND BY THE SEA FOR SALE WITH HOUSE IN DEVELOPMENT, KORCULA ISLAND is a land located by the sea in the 2nd row from the sea and only 30 meters from the sea. On the land, there is a house in development with building permit for 2 floors and 209 m2. The only basement floor has been done in concrete works. There is a project of the two-story house of 209 m2, which can be extended into 3 story house with a total size of about 400 m2.
Land plot size is 545 m2 and has direct road access from the backside. The land is sloping towards the sea enabling panoramic sea view. Public stairs lead to the seafront which is only 30 meters away and there is stone plateau with boat mooring. Price of the land with house in development is 150000€.
The total surface of the land plot is 545 m2.
There are electricity and water connection in the house. Location of the south side of Korcula island is the most attractive, with a lot greenery, easy road access, and tranquil surrounding.
Korcula the island of Marco Polo is one of the most densely wooded islands in the Adriatic. The landscape of the island of Korcula is enriched by olive groves and vineyards which represent a traditional source of life and income for the population of the island of Korcula. Korcula is considered as the pearl of the southern Dalmatia and offers to its visitors picturesque walled old town of Korcula, magnificent coastal panoramas, dreamlike fishing villages and stunning coves. The coast of the island of Korcula is very indented with a large number of bays and coves.
Reference number: (LH-DEV-K2)
SOLD!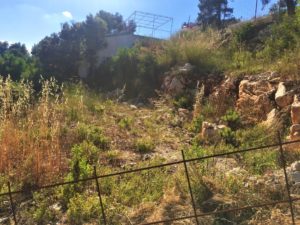 If you want to know more about Korcula island, click here: Korcula island
For information about buying a property in Croatia, cost and fees, click here: Buying a property in Croatia
You can check ferry schedule to Korcula here: Jadrolinija