About this Property:
House for sale second row to the sea in Zadar area
(HO-ZK-IG-01)
This House for sale in second row to the sea in Zadar area is located in second row from the pebble beach suitable for children. House is less than 30 meters to the beach in quiet suburb of Zadar town. House needs some renovation works as it was not used for living lately.
SOLD!
Location of this house is elite part of Zadar, surrounded with villas and greenery. It sits on the land plot of almost 400 square meters. Car access is from the back side where is garage and additional 3 parking places. This large house is organized into 3 apartments but easily can be turned into 1 unit as the stairs that connect all floors are inside of house. From inside of garage the doors connect internal hallway, staircase and also basement area which is large and has high ceilings so it is possible to finish this space into one more apartment, or gym or recreation area, or wine cellar, as it also has entrance doors from the south side. In part of this basement area is central boiler and central heating engine. Beside central heating installed in every room, there is also air conditioner for cooling installed in two apartments, which are on the first floor.
House in total has almost 300 sq.m. of internal space on 3 levels: basement level, ground floor level which is at almost 2 meters above land level. This floor is one apartment with large southern terrace overlooking the sea, enjoying sun all day. Living room is spacious and connected to the kitchen and dining area. There are 3 bedrooms and 2 bathrooms in this apartment.
First floor consists of 2 apartments which are connected with hallway so can be used as one. On this floor there are 2 kitchens, 2 living rooms with dining area, 2 bathrooms and 2 comfortable bedrooms. Bathrooms are connected to the bedrooms but can be also used from the hallway if needed. Each apartment has south side terrace with beautiful sea view, although there are buildings in first row.
There is walk path in greenery on the beach, with no road on the beach area so it is safe for children. Walk zone is all along the beach for kilometer or more, so it is relaxing to walk along the beach as there is no crowd. Also there is a lots of greenery and walk path is in shade so it is very pleasant and relaxing. It is possible to moor a boat in summer time as there are many piers for mooring. This is small settlement so in the summer on the beach are locals or few tourists staying in neighboring houses. This is dead end street so there is no cars traffic at all. It is always quiet and green.
Although this house needs some small renovation, it can be used for living right away. House is connected to electricity and city water system. In the garden there can be constructed pool.
Price is under market value, so do not hesitate to contact us as soon as possible for purchase, as houses like this one are rarely on the market and rarely at such low price. Price for Croatia Zadar town beach house for sale is 361 000 EUR.
Zadar is a beautiful, 3000 years old centre of North Dalmatia, resting on the coast of the Adriatic sea that will give you an opportunity to testify its vivid history and enjoy the contemporary aspects of its culture today.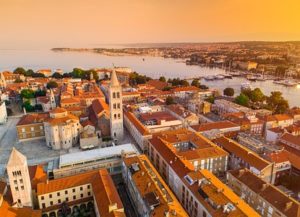 Find out here information about buying property in Croatia – Buying procedure, Costs and Fees
If you want to know more about Zadar, click here: Zadar 
Read more about this property here Croatia Zadar town beach house for sale.