About this Property:
SOLD House for sale 30 meters from the sea, Rogoznica, Sibenik
(H-RO-MG-ZG)
House WAS SOLD. hOUSE 30 meters from the sea, Rogoznica, Sibenik is a newly built house, 2nd row from the sea which is only 30 metres away! House is located in a very quiet surroundings on a land
plot of 390 square metres. Total surface of the house is 210 square
metres. There are 2 appartments on 2 floors, a garage and a water tank.
3 additional parking spaces are available in front of the house. In back
side of the plot is a biological septic tank with 3 separated
compartments for waste. There is an asphalt road leading up to the house
from the main motorway.
Each of the appartments has 80 square metres. Both appartments have a
big open plan living room/kitchen that open up to a 12 square meter
terrace. First floor appartment has 3 bedrooms, 1 bathroom and 1 toilet.
It is fully furnished. Appartment on the second floor is not furnished
and has 2 large bedrooms and a large bathroom. Larger bedrooms in each
appartment also have their own balcony.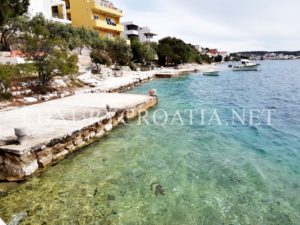 Rogoznica is a quiet but popular tourist village on the coast of Croatia at the end of North Dalmatia, located around 30 km from Šibenik and 55 km from Split and hidden in a deep bay sheltered from the wind. Most of the island is covered with forests, while the centre shows old stone houses, witnessing the whiff of the Mediterranean. It was once a small island called Kopara where Rogoznica was rested, however the island was artificially connected to the mainland, creating a peninsula in the second half of the 19th century. The depth of the bay creates a shelter from the wind and makes it one of the safest harbour on the Croatian coast. It is therefore very convenient to berth small or large boats in Marina "Frapa", one of the prettiest marinas in the Adriatic with a total of 450 berths.
If you want to know more about Rogoznica, click here: Rogoznica