About this Property:
House for sale in Rogoznica with wonderful sea view
(HO-RO-VIB-01)
House for sale in Rogoznica with wonderful sea view : Detached residential house, setting out on three stories that hold one residential unit per story. The house has a great location and a wonderful view over the sea, which is only 100 meters away from the house.
On the first floor there is a goods shed and the first residential unit, consisting of a living room/bedroom, a kitchen, a dining room, bathroom and a loggia.
The second floor holds the second residential unit, with a living room, kitchen, dining room, bathroom, two bedrooms and a loggia.
On the third floor, you can find an entry to the floor, hallway, a bathroom, toilet, two bedrooms, kitchen, dining room, living room and a terrace with a fireplace, with amazing sea view. The area is perfect to relax and enjoy the meal in the summer time.
There is air-conditioning available in the house, cable TV, ADSL and SAT TV.
Connected to the city water, sewer and the telephone.
Permits: building permit, usage permission and certificat of ownership.
Total neto surface of the house is 205 m2.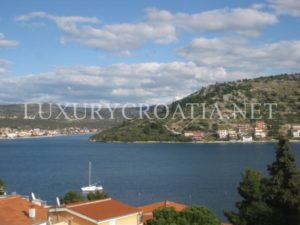 Rogoznica is a quiet but popular tourist village on the coast of Croatia at the end of North Dalmatia, located around 30 km from Šibenik and 55 km from Split and hidden in a deep bay sheltered from the wind. Most of the island is covered with forests, while the centre shows old stone houses, witnessing the whiff of the Mediterranean. It was once a small island called Kopara where Rogoznica was rested, however the island was artificially connected to the mainland, creating a peninsula in the second half of the 19th century. The depth of the bay creates a shelter from the wind and makes it one of the safest harbour on the Croatian coast.
If you want to know more about Rogoznica, click here: Rogoznica