About this Property:
House for sale sea view Zadar Croatia
This house for sale sea view Zadar Croatia is located in quiet residential part of this beautiful 2000 years old town of Zadar with a lots of greenery around.
House has 4 apartments, total size of house is 260 sq.m. laid on 2 floors. There is garage and additional 2 parking spaces, front flower garden, and back side spacious garden with olive trees and barbecue. There is basement space which is not finished inside. Land plot size is almost 400 sq.m., with access road in co-ownership.
House is renovated 3 years ago to good quality standard. It has hydro and thermal isolation. Main apartment is on the first floor, has air-condition and heating wood oven. Other 3 apartments have air-condition device (which can do both, heating and cooling).
Nearby are all amenities for everyday life, supermarkets and shopping malls.
Sea is a few minutes drive, and so is town centre and beaches.
Zadar international airport is 15 minutes drive, and highway as well.
Zadar is a beautiful, 3000 years old centre of North Dalmatia, resting on the coast of the Adriatic sea that will give you an opportunity to testify its vivid history and enjoy the contemporary aspects of its culture today. Zadar evolved a lot through the years, transforming itself from a prehistoric settlement to an Illyrian village to a Roman municipality and surviving other transformations until it was finally liberated and reunited with the rest of Croatia in 1993. As the Croatian National Tourist Board says, the region of Zadar tells the story of the sources of Croatian cultural heritage better than any book.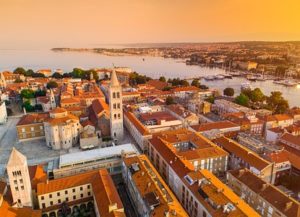 Find out more about Zadar here.
Find your route to Zadar here.
Read more about this property here Croatia Zadar sea view house sale .