About this Property:
House for sale on island of Silba 
SOLD
(H-SB-SF03)
House for sale on island of Silba is located in the center of the village 100 metres from the sea . Living/usable area is 132 m2. There is private rear terrace, front courtyard and garden 120 m2. House is renovated completely in 2006 with new roof, windows, new stucco and plumbing. It has large living and kitchen area, 4 bedrooms and 2 Bathrooms.
Silba is an island in Croatia with an area of 15 km2, northern Dalmatia, south-east of Lošinj, between the islands of Premuda and Olib. It has a Mediterranean climate with 2570 hours a year of sunshine. Most summer days are hot, bright and clear with light westerly Maestral wind cooling the island in the afternoons.
Silba has an area 15 square kilometres (6 sq mi) in the shape of number 8, with the village of Silba located at the narrowest point in the middle. It takes only around 10 minutes to walk the 600 m from the north-eastern harbour of Mul to the south-western harbour of Žalić (Zhaleech).
Officially, Silba's population is 292, but it varies seasonally; from a few hundred, mainly pensioners, in the winter, to several thousand during summer months. Many have jobs and properties on the mainland. There is also an influx of tourists during the summer months as tourism is now the main economic activity on the island. The whole island is a pedestrian zone, no traffic is allowed with the exception of vehicles supplying the local businesses.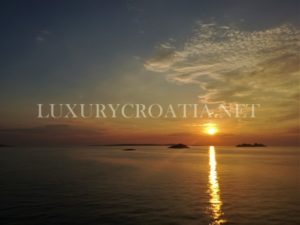 Zadar is Silba's mainland administrative center; it is part of the Zadar County.
If you want to know more about Zadar click here: Zadar, unforgettable sunset