About this Property:
House for sale in Zadar area
House for sale in Zadar area has two levels and 172 sq.m. House is located close to the sea, just 5 km from Zadar.
This house for sale in Zadar area has 2 levels. On the ground floor of the house is kitchen with dining area, living room, 2 bathrooms and additional toilet. On the first floor of the house for sale are 3 big rooms and spacious terrace. One of the rooms has private balcony. House for sale is located just 150 m from the sea and it is close to "Marina Dalmacija", one of the best marinas in Croatia. Zadar is just 5 km from the house for sale.
SOLD!
Zadar is a beautiful, 3000 years old centre of North Dalmatia, resting on the coast of the Adriatic sea that will give you an opportunity to testify its vivid history and enjoy the contemporary aspects of its culture today. Zadar evolved a lot through the years, transforming itself from a prehistoric settlement to an Illyrian village to a Roman municipality and surviving other transformations until it was finally liberated and reunited with the rest of Croatia in 1993. As the Croatian National Tourist Board says, the region of Zadar tells the story of the sources of Croatian cultural heritage better than any book. The Sea Organ, situated on the west side of Zadar's riva, appearing to be only a few stairs descending into the sea, whilst hiding the genius engineering that hides under the sea. The same architect designed The Greeting to the Sun, a 300 multi-layered glass in the shape of a circle which has photo-voltage solar modules that can communicate with light. In the world of natural beauties, Zadar will not dissapoint, offering amongst other things quite a few national parks for you to wonder around. Some of the national parks in the Zadar region are Kornati Islands, Paklenica canyons, Krka waterfalls, Plitvice lakes ( listed as a World Heritage site by UNESCO) and North Velebit.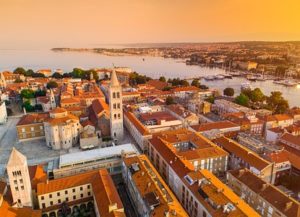 Find your route to Zadar area here.
Read more about Zadar here.