About this Property:
House for sale in Zadar area
This house for sale in Zadar area has 105 sq.m. and two levels. House in Zadar area is built in 2016. and it is fully furnished. There are 3 bedrooms and 2 bathrooms in the house for sale. Open space living room is connected with kitchen and dining area of the house. Upper floor has radiators and they are heated by wood. Small pantry with washing machine is under stairs. House for sale has spacious outdoor covered terrace with garden. Kitchen window offers beautiful view of mountain Velebit. House for sale is completely furnished with all the electrical devices, closets, beds and kitchen. Beautiful wood looking tiles have been laid throughout the house, PVC joinery with mosquito nets on all the windows. House is move in ready. Zadar is just 20 minutes away by car from the house. The price for the house for sale in Zadar area is 280 000 EUR.
Zadar is a beautiful, 3000 years old centre of North Dalmatia, resting on the coast of the Adriatic sea that will give you an opportunity to testify its vivid history and enjoy the contemporary aspects of its culture today. Zadar evolved a lot through the years, transforming itself from a prehistoric settlement to an Illyrian village to a Roman municipality and surviving other transformations until it was finally liberated and reunited with the rest of Croatia in 1993. As the Croatian National Tourist Board says, the region of Zadar tells the story of the sources of Croatian cultural heritage better than any book. The Sea Organ, situated on the west side of Zadar's riva, appearing to be only a few stairs descending into the sea, whilst hiding the genius engineering that hides under the sea. The same architect designed The Greeting to the Sun, a 300 multi-layered glass in the shape of a circle which has photo-voltage solar modules that can communicate with light.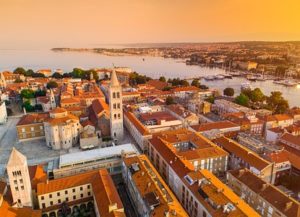 Find your route to Zadar area here.
Read more about beautiful city of Zadar here.
Read more about this property here Croatia Posedarje area sea view house for sale.