About this Property:
House for sale in Trogir area
This house for sale in Trogir area has two apartments. Big apartment in the house for sale has 5 bedrooms and the small one has 2 bedrooms.
House for sale in Trogir area has 207 sq.m. and 2 divided apartments. The big apartment has 5 bedrooms and 2 toilets. There is also living room with kitchen in the big apartment of the house for sale. This apartment also has balcony. Small apartment is 2-bedroom apartment with private terrace. House for sale is surrounded by big private garden with outdoor fireplace. There are 3 parking places in the house for sale. There is also depository in the house for sale. House for sale is located in small town near the sea. Trogir area is very popular during whole year and especially in high tourist season. Price for the house is 290 000 EUR.
Trogir, Dalmatia's hidden gem is remarkable small town with 2300 years of tradition, set on small island on the Adriatic coast of Croatia in the center of Dalmatia. Hiding not so far away from Split, only 27 km, it is connected ti the mainland and with another island, Ciovo with bridges. The historic city center of Trogir is under the protection of UNESCO since 1997., recognized as true example of urban continuity, an old town with a number of intact Renaissance and Baroque buildings and churches from the Venetian period. Trogir is very well connected with the rest of the Europe through a good air network to Split's airport. There is a lot to see in such a small place, so keep your eyes wide open while observing what Trogir has to offer, such as a well preserved castle and a tower, palaces and cathedrals from the 13th century.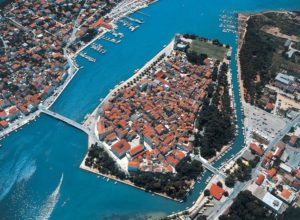 Find your route to house for sale in Trogir are here.
Read more about Trogir area on our website.