About this Property:
House for sale close to front line Zadar area
This House for sale close to front line Zadar area is only 60 meters from the pebble beach. House is located in quiet green neighborhood. Street leads to the beach and there is no possibility to enter with car as the beach area is only walk zone that stretches for 2 kilometers along the sea, up to the restaurant on the end of the seaside promenade.
House for sale is located few kilometers from Zadar, and has 3 apartments, in total about 180 square meters of living space. Land plot has 270 sq.m. and is directly connected to the local street. Two apartments are on the ground floor level. One apartment has 1 bedroom, other apartment has 2 bedrooms. On the first floor are gallery and 3 bedroom apartment with beautiful sea view.
In front of the house there is large parking for 3 cars and outdoor fireplace for grilling. House sits on small land plot but with some greenery there could be more privacy, or with high fence there could be total privacy on the front yard. Also terraces could be extended for better sea view and privacy that upper floor terrace can provide. House needs some renovation works, but price is fair and location is perfect for those who seek for quiet seaside place. Price for House for sale close to front line Zadar area is 320 000 EUR.
Zadar is a beautiful, 3000 years old centre of North Dalmatia, resting on the coast of the Adriatic sea that will give you an opportunity to testify its vivid history and enjoy the contemporary aspects of its culture today. Zadar evolved a lot through the years, transforming itself from a prehistoric settlement to an Illyrian village to a Roman municipality and surviving other transformations until it was finally liberated and reunited with the rest of Croatia in 1993. As the Croatian National Tourist Board says, the region of Zadar tells the story of the sources of Croatian cultural heritage better than any book. Zadar is brimming with unforgettable Romanesque churches and each one of them has its own story, such as St. Anastasia, St. Chrisogonus and St. Donatus, which is recognized as the symbol of the city and is the most monumental Croatian building of the early Middle Ages.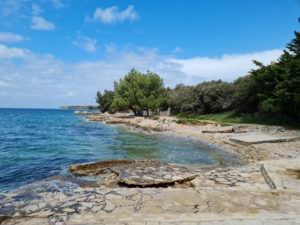 Find your route to Zadar area here.
Find out more about Zadar here.
Read more about this property Croatia Zadar area house for sale close to front line.