About this Property:
Croatia Sibenik area sea view house for sale
Croatia Sibenik area sea view house for sale is located in a peaceful bay just 8 km from Sibenik. It has 166 sq.m.
It is a detached house with 2 levels and 3 apartments with 3 terraces. Apartments are fully furnished and each of them has its private entrance. Sea view house has total of 10 rooms and 3 bathrooms. It has all the infrastructure needed (water, electric power). The heating system is electric, house offers air conditioning and ventilation. Size of the apartments are 65, 61 and 40 sq.m. The house is located on a plot of 322 sq.m. Outdoor area features private parking that can fit up to 3 cars and a barbecue. It is only 50 meters away from the sea and has its own boat mooring for up to 3 boats. It offers a beautiful view of the Adriatic sea and it assures privacy. Beaches in this area area are clear and surrounded by pinewood forest providing fresh air. The price for Croatia Sibenik area sea view house for sale is 380 000 EUR.
Sibenik is a historic city located in the central part of the Croatian coast on the Adriatic sea where the beautiful river Krka flows into the Adriatic. It is a centre of the county of Sibenik and Knin and it extends along the 100 km long coastline from Zadar to Split while laying under the Dinara mountain in the hinterland area.
LuxuryCroatia.net team is real estate broker with 10 years of experience in real estate sales in Croatia. Our team will guide you through the buying procedure, give you all relevant advice and successfully complete your process of purchase. We provide you with complete information and instructions about way to buy property in Croatia. There are some small differences in purchase procedure in Croatia compared to other EU countries, and we are here to inform you and guide you through all the process. Testimonials of our happy clients speak about our work. Most of information in case you plan to buy property in Croatia, you will find on this website.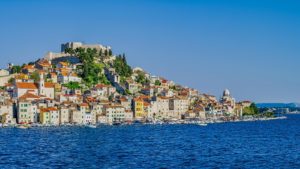 Find your route to Sibenik area here.
Learn more about buying property in Croatia here.
Read more about this property here Croatia Sibenik sea view house for sale.