About this Property:
Croatia Makarska area stone house for sale
Croatia Makarska area stone house for sale has residetial area of 88 square meters, while the plot size is 1200 square meters.
It is a detached house that consists of 3 bedrooms and 1 bathroom. Barbecue is available in the garden. There is also a garage on the property. House has water and electricity connecitons as well as the road access. Price for Croatia Makarska area stone house for sale is 155 000 EUR.
Makarska is a tourist resort and a small city, located on coastline of the Adriatic sea of Croatia, around 60 km from Split on one side, to around 140 km away from Dubrovnik on the other side. The whole surrounding region is known as Makarska Riviera, with Makarska always being it's centre. Makarska is also famous as a medical resort for the senior generations. The shape of the deep sheltered bay reminds of a horse shoe, and the beautiful sea nature is accompanied by the Biokovo mountain rising from the other side, creating a mesmerizing sight to see. This attractive natural setting, good climate and a lot of tourist attractions make it one of the most popular tourist destinations on the Croatian coast.
LuxuryCroatia.net is Real Estate Agency that has 10 years of experience in sale of all kind of Croatian properties. Our small but dedicated team of experts can search and find your adequate property, if you can't find it in our listings of more than 1500 Croatian properties for sale. We are locals, Croatians, with experience in sales of properties and have visited all Croatian coastal and island destinations and locations, so that we can help you with advice about amenities of location that is of your interest. We know every inch of our country, every village, bay, island, we are proud of Croatian rich heritage and history.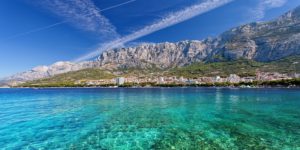 Find your route to Makarska area here.
Find out more about buying property in Croatia here.