About this Property:
Beautiful house for sale, with a garden and a sea view on Ciovo Island
(WG-BH-C1)
Beautiful house for sale, with a garden and a sea view on Ciovo Island is a  house on a great location, only 30 meters from the sea and a nice beach. The size of the house is 400 m2. On the first floor there is a furnished three bedroom apartment with a big balcony. The size of the apartment is 100 m2 and of the balcony 33 m2. On the second floor there are two smaller apartments, 50 m2 each. They both have balconies. In the attic there is another apartment (70 m2). On the ground floor there is a smaller apartment (45 m2) and a garage. In front of the house there is a beautiful garden with an outside fireplace, barbecue and sitting area. There are also 4 parking spaces and two more garages (one 45 m2 and the other 18 m2). The price also includes mooring for boats. The size of the land plot is 525 m2.
House is on a nice location, close to a lot of amazing beaches and not far from town Trogir. Trogir is a charming small town with 2300 years of tradition, set on a small island on the Adriatic coast of Croatia in the center of Dalmatia. Hiding not so far away from Split, only 27 km, it is connected to the mainland and with another island, Ciovo with bridges.The  historic city center is under the protection of UNESCO since 1997., recognized as a true example of urban continuity, an old town with a number of intact Renaissance and Baroque buildings  and churches from the Venetian period. You can really get a sense of the Mediterranean while sight seeing and wandering the narrow streets of Trogir, sometimes nick-named the town-museum.  Trogir is very well connected with the rest of the Europe through a good air network to  Split's airport.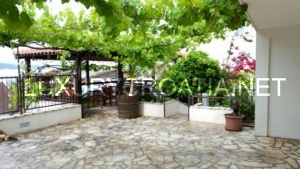 If you want to know something about Trogir city, click here: Trogir
Find out here information about buying property in Croatia – Buying procedure, Costs and Fees