About this Property:
Beachfront house for sale Zadar Novigrad area
This beachfront house for sale Zadar Novigrad is located directly on the beach with no road between the house and the sea! Direct access to the beach with its own staircase! The house enjoys a spectacular panoramic sea view. On its large terraces, you will enjoy beautiful sunsets over the sea.
The house consists of a basement, ground floor and first floor with a total of 7 bedrooms. The ground floor has 2 large and 2 smaller bedrooms, bathroom and 30 sq.m. of covered terrace for outdoor chilling. The first floor consists of 2 large and 1 smaller bedroom. There is a kitchen, bathroom and open terrace overlooking the sea. One smaller terrace (10 sq.m.) is near the yard. There is plenty of space for parking on this land plot. The house is connected to the electricity and city water system. High speed internet available at this location. The total residential area is 200 sq.m., and land plot is 490 sq.m. House is located in small tourist village on the sea. Zadar international airport is 15 minutes drive, highway is 10 minutes drive. Price for this property is 650 000 EUR.
Novigrad is a small fishing and tourist town and municipality in the county of Zadar in Croatia. It is located in the deep sheltered bay of Novigrad sea below the remains of the ancient fortress at the top of a steep hill. Far from crowded cities and popular tourist destinations Novigrad enjoys peace and tranquility after centuries of turbulent history. Besides its two neat public gravel beaches, the shores of Novigrad are full of small hidden coves in the shade of tamarisk trees that provide privacy and intimacy for swimmers. The sea is very clean and ideal for families with small children. For lovers of active holidays in nearby vicinity is very attractive canoe safari down the river Zrmanja, then bungee jumping on the Maslenica bridge and climbing and hiking in the National Park Paklenica on Velebit mountain.
Read more about this Beachfront house for sale Zadar Novigrad area here  Croatia Zadar Novigrad area beachfront house for sale .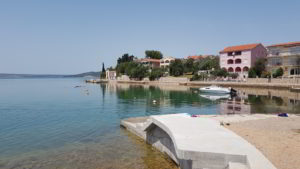 Find out more about Zadar area here.
Find your route to Novigrad here.
Read more about this Beachfront house for sale Zadar Novigrad area here.