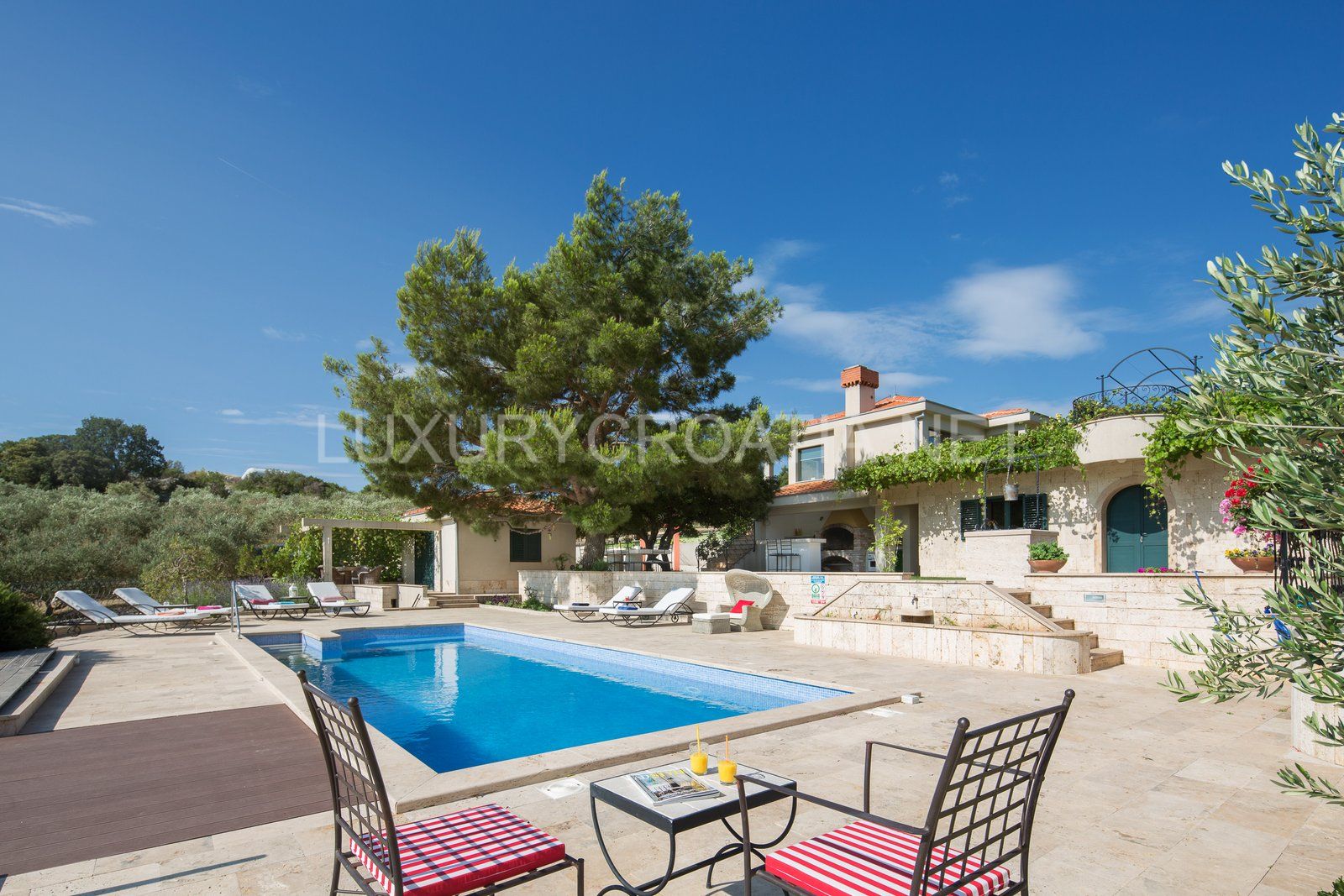 Croatia Trogir area sea view real estate for sale is located on the slopes of the mountain Kozjak near the town of Trogir, Split airport is 10 minutes drive, and the Zagreb-Dubrovnik highway as well. Villa was built in 2012 on a fenced property of 16 000 sq.m.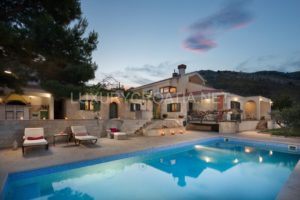 Villa consists of 4 double bedrooms and 1 twin bedroom on the gallery. It has 3 floors and garage parking for 2 cars and 3 outdoor parking places. Outdoor swimming pool has 40 sq.m. with the possibility of heating (integrated counter-current, vertical and horizontal massage, outdoor shower by the pool, bathroom with shower under the pool and gym). There are also outdoor and indoor grill, safe, hydro massage bathtub, gym, playground, outdoor bowling court, olives, and vegetable garden. The whole Villa is air-conditioned with built-in floor heating for colder weather.
The villa has 5 bathrooms with a shower (4 inside the house, one under the swimming pool and gym). The large bathroom on the ground floor has a hydro-massage bathtub. Also this spacious residence has tavern/wine cellar, gym, open kitchen with grill, garage. Villa has all the devices necessary for a pleasant living: oven, stove, refrigerator, freezer, microwave oven, toaster, dishwasher, BBQ, ice maker, washing machine, dryer, …
Ground floor: kitchen, dining room, living room connected with the working room/library on the gallery, two bedrooms, and two bathrooms.
First floor: bedroom with bathroom, apartment with living room, bedroom, bathroom and one twin room on the gallery (2nd floor). All rooms have access to the loggia/terrace/balcony with garden furniture.
This comfortable residence in traditional Dalmatian architecture is true gem for nature lovers. This large estate with total nature surrounding is ideally for buyers who prefer serene atmosphere and distant sea views for relaxation. You can take a walk in the shade of 400 olive, almond and oak trees and enjoy under your pine tree listening to a goldfinch singing from above ….
Trogir, Dalmatia's hidden gem is a remarkable small town with 2300 years of tradition, set on a small island on the Adriatic coast of Croatia in the center of Dalmatia. Hiding not so far away from Split, only 27 km, it is connected to the mainland and with another island, Ciovo with bridges. The historic city center is under the protection of UNESCO since 1997., recognized as a true example of urban continuity, an old town with a number of intact Renaissance and Baroque buildings and churches from the Venetian period. You can really get a sense of the Mediterranean while sight seeing and wandering the narrow streets of Trogir, sometimes nick-named the town-museum. Trogir is very well connected with the rest of the Europe through a good air network to Split's airport. After you've reached Split, you can take a car or a bus, and you are in this beautiful old town within a few hours. You can also come with a boat, coming from the coastal cities of Italy, such as Ancona, Pescara, Bari or Venetia, and if you are coming to Trogir while cruising on your own boat, you will surely find a port for you to anchor in and enjoy, either the ACI Marina Trogir, Trogir Waterfront or on the island Ciovo waterfront.
Read more about Croatia Trogir area sea view real estate for sale here.
Read more about Trogir here.