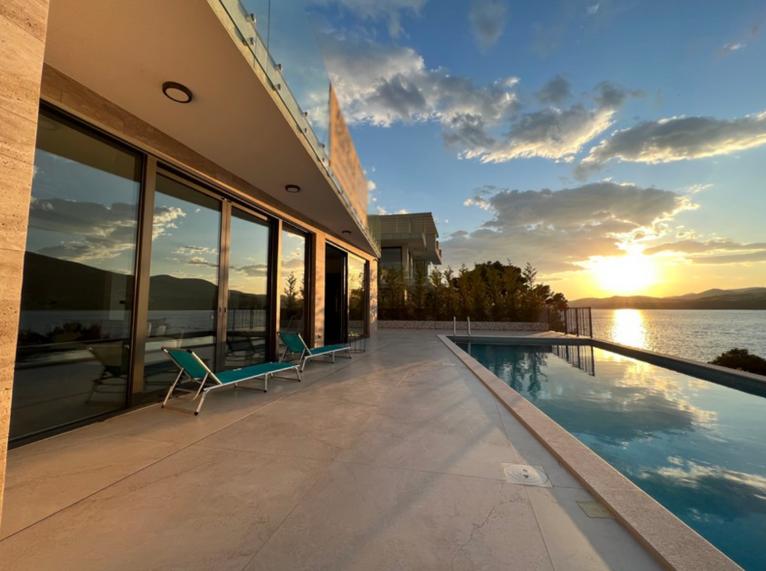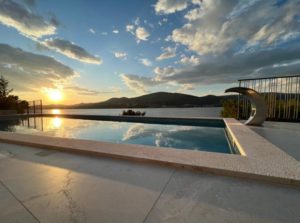 Croatia Trogir area new modern seafront villa for sale is located directly on the waterfront. There is no road in between.
From the garden gates you enter directly on the beach. It is a small beach in use only by neighbours, so there is always enough space for you on the beach. But from the pool you can also enjoy in beautiful sea view.
This modern contemporary residence has the living area of 349 sq.m., consisting of a large living room, fully installed modern kitchen, 5 bedrooms, 5 well-equipped bathrooms, and a two-car garage. Large seafront terraces are the central area for gathering by the pool or for an outdoor lunch or dinner. The terrace on the ground floor is fitted with an illuminated heated pool. The large terrace on the second floor has a Jacuzzi.
You can admire the breathtaking view of the sea and the opposite coast from the terrace fitted with an 11-meter-long heated pool. Thanks to the floor-to-ceiling aluminium picture windows, this unique view stays within your sight, even if you are standing in the living or dining room of 84 sq.m. total area. On the second and the third floor additional large terraces are located. One of them is fitted with a hot tub.
The villa covers a total area of around 350 sq.m. and consists of 5 bedrooms and 5 luxuriously fitted bathrooms. Each of the floors can be used as a separate residential unit.
The house has been finished with top-class materials only. The floors are tiled with stylish, large-format ceramic tiles and panelled with wood flooring. Frameless doors make it easy to stroll between the rooms smoothly, and along with the picture windows, lend a loft character to the building without turning away the privacy.
In order to protect your cars against wind and bad weather, the villa has been fitted with a garage for two cars. Undoubtedly, the delightful greenery around the residence completes the whole picture, and combined with modern lighting, will make every evening unforgettable.
Price for Croatia Trogir area new modern seafront villa for sale is 2 650 000 EUR.
Read more about this property here Croatia Trogir area new modern seafront villa for sale.