About this Property:
Seaview house for sale near Posedarje Zadar area
(SH-MZ-JA)
Seaview house for sale near Posedarje Zadar area consists of the ground floor and two more floors. The surface of the ground floor is 69m2, the surface of the first floor is 103m2 and surface of the second floor is 90m2.
The second floor is divided into two completely new apartments with separate entrances. Each apartment consists of a hallway, a room, a bathroom and a kitchen with a living room and a balcony with a beautiful view of the Novigrad Sea. On the first floor, there is a completely renovated bathroom, three bedrooms, and kitchen with balcony and terrace. The ground floor consists of a summer kitchen, storage room, toilet, and two additional rooms. From terrace, you can see a beautiful sea view. House is in a peaceful area, just 200 meters from the sea, 30 km from the city of Zadar.
Zadar is an ancient Mediterranean port city. The old town, surrounded by walls and towers on a peninsula, with a new, urban part is connected by a bridge, a symbol of the city. Built on Roman urban principles, where there are several major longitudinal streets traversed by a greater number of latitudinal streets, give the city a rectangular shape. The old town is a treasure trove of archaeological treasures and monuments to the ancient, medieval and Renaissance periods. This is visible by a number of sacral and architectural monuments. Zadar is a powerful cultural and economic city whose life is comfortable all year round but shows all its splendor in the summer.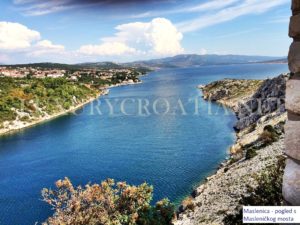 If you want to know more about buying property in Croatia just click here.
If you want to know more about the town of Zadar click here.