About this Property:
Rustic stone house for sale Trpanj,
Rustic stone house for sale Trpanj is situated on Peljesac peninsula, only 200 meters away from the sea in a peaceful and quiet area.
This rustic stone house in a row has 3 floors and a terrace on the roof. There is no access to the terrace but it is possible to add an entrance.
The ground floor consists of 1 studio apartment with a kitchenette, a bathroom, a storage room, and a bedroom. The first floor consists of 2 bedrooms and 2 bathrooms in the hallway. The second floor consists of 4 bedrooms. The house is fully furnished and it is included in price.
This rustic stone house in Trpanj has wooden floors which are in a really good state.
The house is connected to the city water. There is no road access as the house is located in the old part of Trpanj.
It is possible to buy the neighboring house which is connected to this one.
The price is negotiable.
(SA-AT-TP-02)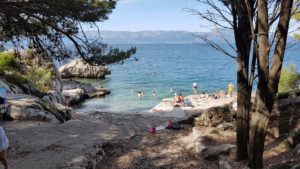 The house is located in South Dalmatia, a region rich in historical and cultural tradition along with its authentic gastronomic offer and long-time tourist tradition.
It is the smallest area of Dalmatia and is also the least populated. The region is characterized by a mild Mediterranean climate with nice sunsets.
The coast offers several coves with beautiful sandy or pebble beaches.
The landscape in South Dalmatia is extremely beautiful, in most parts the high mountains cascade down to the Sea, leaving little space for human interference in terms of cities and infrastructure.
This region is known, among other things, for its good vine, delicious oranges, oysters, as well as olive oil. Many of Croatia's top wines are from this part of the country, for example, Dingač and Postup from Pelješac and Pošip from Korčula. One of the most pleasant things to do when visiting Southern Dalmatia is to go on a tour of some of the local wineries. The cuisine of South Dalmatia is essentially Mediterranean.
If you are interested more in the region of South Dalmatia, click here: South Dalmatia
If you want to plan your route to Trpanj, click here: ViaMichelin