About this Property:
Luxurious Seafront Villa, Sutivan, Brac
(VI-SB-AK-01)
Luxurious Seafront Villa, Sutivan, Brac: Beautiful house, located in the first row from the waterfront, with an amazing view over the Adriatic sea and a private swimming pool. The swimming pool is super elegant, with an infinity effect, and upgraded hydro massage.
The interior of the house is very elegant, it symbolizes modern architecture with the combination of stone, glass and straight lines. It is surrounded by greenery and built for the needs of the modern day rest and living.
Everyday cleaning is provided, and on your arrival, a full-fridge, special welcome gift waits for you.
The villa has 3 bedrooms, 4 bathrooms and is able to accommodate up to 8 persons.
Each bedroom has a king bed, and one of the bedrooms has an additional sofa bed.
Amenities include a gym, Wi-Fi, dryer, indoor fireplace, free parking on the premises, air conditioning, essentials, TV.
Prices per day in EUR in 2o20.:
01.01-24.04 – 600 EUR
25.04-05.06 – 650 EUR
06.06-19.06 – 750 EUR
20.06-26.06 – 1200 EUR
27.06-21.08 – 1600 EUR
22.08-28.08 – 1200 EUR
29.08-11.09 – 900 EUR
12.09-02.10 – 650 EUR
03.10-23.12 – 600 EUR
24.12-31.12 – 1200 EUR
In the period from June 1st – September 1st minimum stay is 5 days
Check-in: from 3:00 pm
Check out: until 11:00 am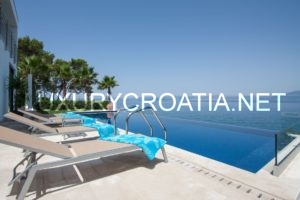 The Brac island is Croatia's third largest island and the largest island in Dalmatia, located in the center of this Dalmatian region. Not only is it the largest island in central Dalmatia, it is also the highest island of all islands in the Adriatic with the highest peak at Vidova Gora where it reaches 778 meters. It is not problematic to reach the top, either by car or by hiking if you are looking for a bit more active vacation, and when you get there you are free to enjoy the view over to the Zlatni Rat Beach on Brac, Hvar island and others. The weather is very sunny on Brac, with around 2700 hours of sun per year. There is a couple of resorts to visit on Brac, such as Supetar, Bol ( the home to the spectacular beach Golden Horn and one of the most famous in the Adriatic), Sutivan, Milna and Sumartin.
If you want to know more about the island of Brac, click here: Brac
If you are interested in spending active vacations, check our offer here: Excursions, trips and adventure Sports